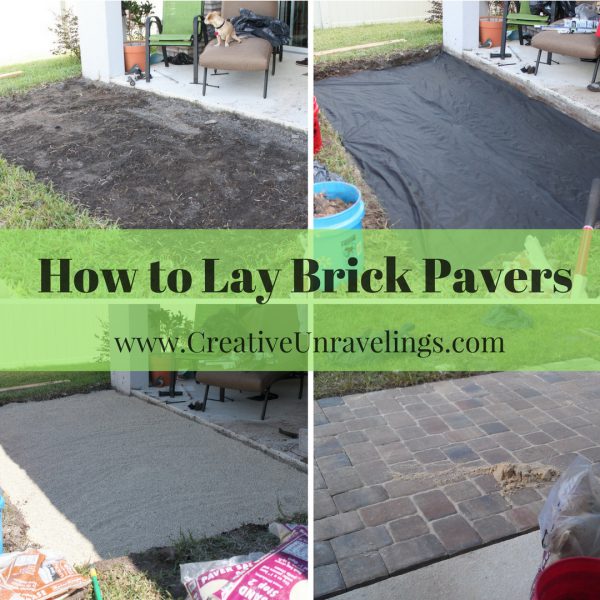 This was definitely one of our "bigger" projects. We were looking for a way to extend our patio, we came across our neighborhood builder demolishing a parking lot made from pavers. There was a sign that said "Free Pavers" you just had to get them yourselves. So there we were with many other homeowners/workers loading free pavers into our cars. This saved us a lot of money!
We wanted to start it in the cooler weather because its just so hot to tackle something like this during the summer months. We ended up starting it in October and it took  about a 2 week process, working on a little bit every day.
Materials Needed:
Patio Pavers- you need to first figure out the square footage of the area you want to cover. Its a good idea to buy about 5-10% more than what you need, just in case they break.
Gravel- read the bag to get a better idea of how many square feet it will cover.
Fine sand- you will need to read the bag to get a better idea of how many square feet it will cover.
wood stakes
Shovel
Tamper
Measuring tape
Rubber Mallet
Weed buster underlayment (make sure you get enough for the square footage)
Wheelbarrow or wagon (for dirt removal)
Heavy duty gloves
Broom
Measure and mark out patio area:
First, measure your patio dimensions and mark them on the ground with stakes at each corner of the plot. Make sure there are no underground lines or irrigation pipes in the pathway. We ran into this problem and ended up hitting the sprinkler line. Luckily, it was something we could fix, but we did have to reroute the sprinkler head a couple of feet out of the way.
Draw a layout of what kind of pattern you would like to use. This will help you determine how many pavers you will need. The hubby did this, he is really good with configuring measurements. He created a computer print out of different layouts and we chose which one we liked the best.
Dig up the ground:
After you have planned and purchased all the materials its now time to start digging. You will need to dig 6-8 inch trench. This is so that you have plenty of room for the layered materials. This was the worst part because we had to remove the sod and dirt and dispose of it, we purchased a wagon to help us out with moving it all to the front yard.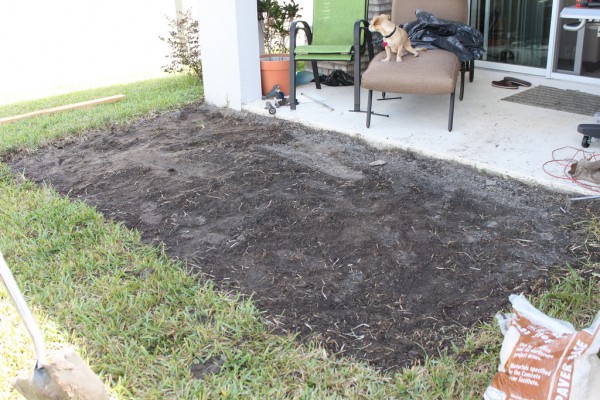 Below is a picture of about 4 inches of dirt dug out...2-3 more inches to go! We put the dog to work and had him digging as well.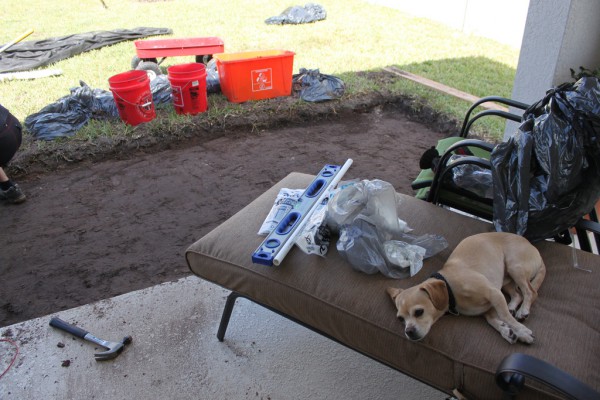 You also want to make sure you plan how the elevation is going to be, we built it so that the patio is slightly slanted downward and as water comes into our porch it will drain onto the patio and flow into the grass.
Add weed underlayment:
Next, pull all sod roots and weeds and rake the dirt level. Then lay the pre-cut weed underlayment. This should help with the weeds that will start to grow under your pavers. Stake all corners so that it fits your area perfectly.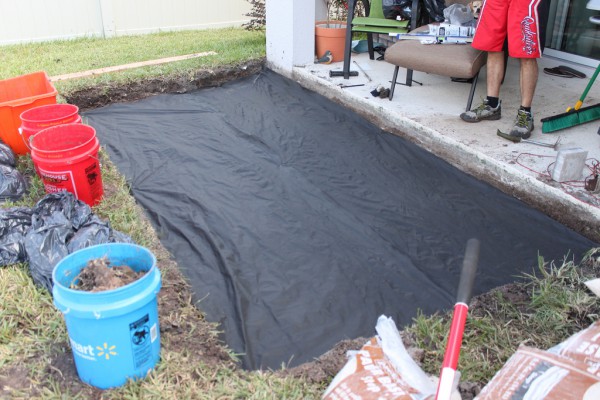 Add gravel base to the area:
Pour 4-6 inches of gravel into the patio trench and compact it using a tamper or plate compactor. Slope the entire area slightly towards the direction in which you want water to run off the patio pavers. Its a good idea to measure in the corners and center to make sure you keeping everything level.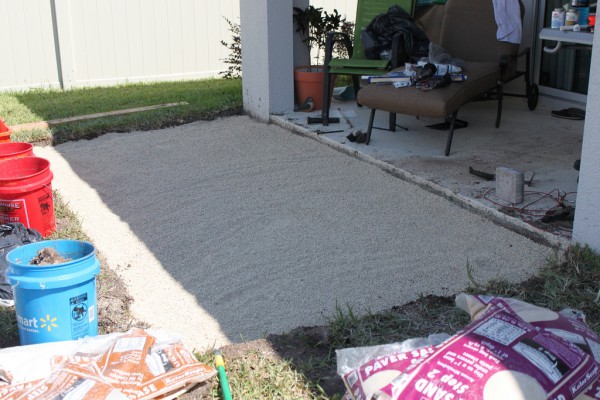 Add layer of fine sand over gravel and compact it:
The sand layer should be less than 1 inch thick and follow the same grade as the gravel, this is the last layer before installing the pavers so its important to make sure the its smooth.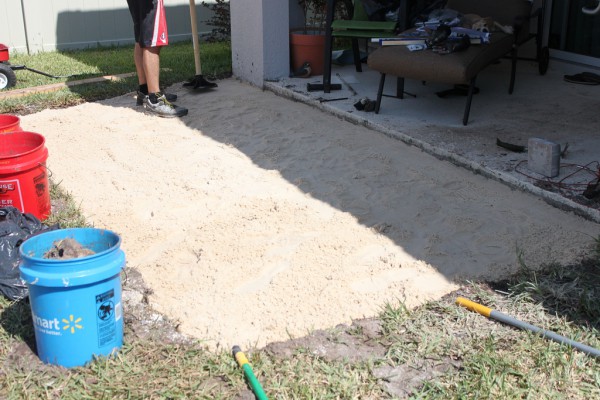 Lay pavers down in desired pattern:
Now comes the fun part!  Its smart to have a pattern to follow before you actually start laying down the pavers. As you start laying the pavers down, you can use a rubber mallet to help get the pavers to align with eachother.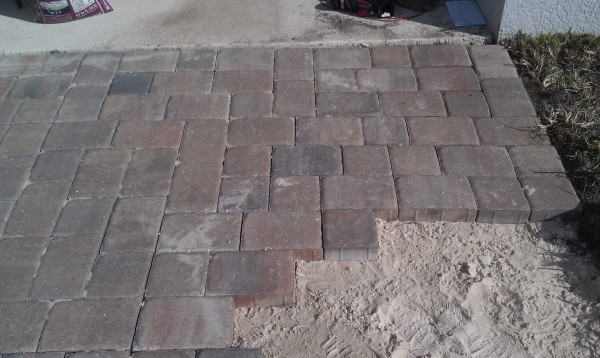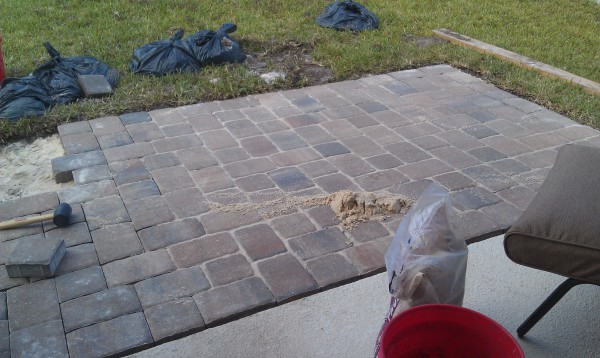 Fill in cracks with sand:
Cover the entire paved patio with the same fine sand you used to make the base. Use a broom to sweep the sand back and forth until it fills all the spaces between the pavers.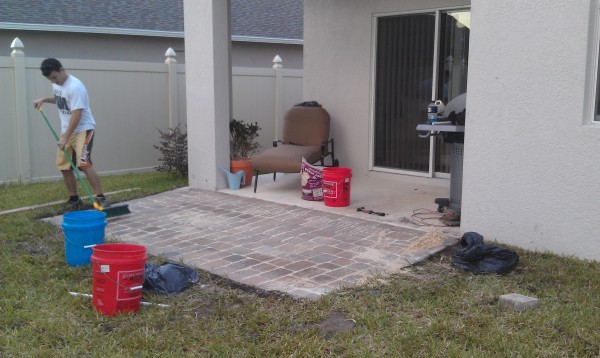 Total cost of project: Less than $400.00 (based on the fact we saved a huge chunk of change on the free pavers.